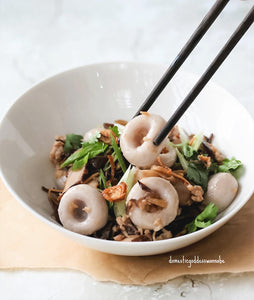 Date: SUN 19 FEBRUARY 2023
Time: 9.00am – 12.00pm
Venue: Paya Lebar (5 mins walk from MRT)

In this workshop, we are cooking up a very classic Hakka dish!
To start, we are making Hakka abacus beads! These cute little button-like yam abacus beads are easier to make than you think! It is all about the consistency and once you get the hang of it, you can really make many, many beads in a short space of time, which is great as the balance can be kept frozen until you want to eat it again!
We will also cook the accompanying ingredients for the abacus seeds. Made with dried mushrooms, dried shrimps and dried squid, you can already tell that this is a great dish! In fact, I always make it a point to cook extra so I can eat it with rice too!
This is a great meal you can easily cook for a few, or many!
What you will learn:
How to prepare yam
How to cook and shape abacus seeds
How to cook the remaining ingredients
How to combine the abacus seeds with the ingredients
What you will prepare:
2-4 servings Hakka abacus seeds
Extra Hakka abacus seeds

What the fee includes:
Ingredients for the class
Use of kitchen equipment
Aprons
Boxes for bringing cakes home
Recipe printout
Cleaning and washing up
Class structure:
Introduction to ingredients
Demonstration by Chef Diana Gale
Interactive hands-on baking session
Participants are to bring their own pen and clipboard for the class if they wish to take notes. Participants may be asked to share workspace depending on recipe.
The maximum class size is 6. Classes will start with a minimum of 4 participants. Fees paid are non-refundable, and if a participant is absent for a workshop, no make-ups will be conducted. Fees paid cannot be transferred to another workshop.
In the event that the minimum number of participants is not met, the class will be cancelled. Participants will be informed via email and all monies paid will be refunded.
Registration is on a first-come-first-served basis. Full payment must be made at the point of registration.
Videography is not allowed for this workshop.
The Domestic Goddess Wannabe reserves the copyrights of any videos and photography taken in class for future promotional purposes, without any prior notice.
The Domestic Goddess Wannabe reserves the right to change the venue of the workshop in the event that the studio is not available. Participants will be notified via email should there be a change.
NOTE: All ingredients are pre-measured. Photos are for reference only and decorations may vary. All ingredients are halal.
If you are making payment for this workshop using your Workshop Package, please choose "Bank Deposit" as the mode of payment and check out. I will process the registration and send you a confirmation email.
For more details on Workshop Packages, please click on the links below.
4-WORKSHOP PACKAGE ($130 per Workshop) > LINK
6-WORKSHOP PACKAGE ($125 per Workshop) > LINK
10-WORKSHOP PACKAGE ($120 per Workshop) > LINK