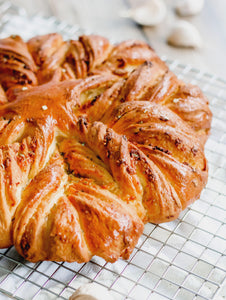 Date: 
Time: 
Venue: ZOOM
Registration Closes: 
This workshop is all about beautiful and delicious bread!
We are making a garlic and herbs flower bread. Shaped like a flower, this bread is layered with garlic and herbs, and everyone eats by twisting off the "petals". This is a show-stopping bread indeed!
Come and learn how to bake this amazing bread and get started on your bread baking journey!

What you will learn:
How to make bread dough

How to incorporate garlic and herbs

How to knead and shape the bread

How to proof the bread

How to bake the bread
What you will prepare:
One garlic and herb flower bread
What the fee includes:
Ingredients for the class
Specific Equipment List
Container for cake
Recipe printout
Class structure:
Introduction to ingredients
Demonstration by Chef Diana Gale
Interactive online hands-on baking session
Basic Equipment needed:
Cake or hand mixer with bread hook(s)
Rolling pin

NOTE: This is a hands-online interactive baking class. Ingredients and baking pans will be supplied to you.
Classes will start with a minimum of 3 participants. The maximum number of participants is 9. Fees paid are non-refundable, and if a participant is absent for a workshop, no make-ups will be conducted. Fees paid cannot be transferred to another workshop.
In the event that the minimum number of participants is not met, the class will be cancelled. Participants will be informed via email and all monies paid will be refunded.
Registration is on a first-come-first-served basis. Full payment must be made at the point of registration.
The Domestic Goddess Wannabe reserves the copyrights of any videos and photography taken in class for future promotional purposes, without any prior notice.
NOTE: All ingredients are pre-measured and can be made halal. Please email organiser (diana@dgwworkshops.com to request). Photos are for reference only and decorations may vary. 
If you are making payment for this workshop using your Workshop Package, please choose "Bank Deposit" as the mode of payment and check out. I will process the registration and send you a confirmation email.
For more details on Workshop Packages, please click on the links below.
4-WORKSHOP PACKAGE ($130 per Workshop) > LINK
6-WORKSHOP PACKAGE ($125 per Workshop) > LINK
10-WORKSHOP PACKAGE ($120 per Workshop) > LINK